/
/
/
Surrey Fire Fighters Charitable Society Donates $500,000 to New BC Cancer Centre
Surrey Fire Fighters Charitable Society Donates $500,000 to New BC Cancer Centre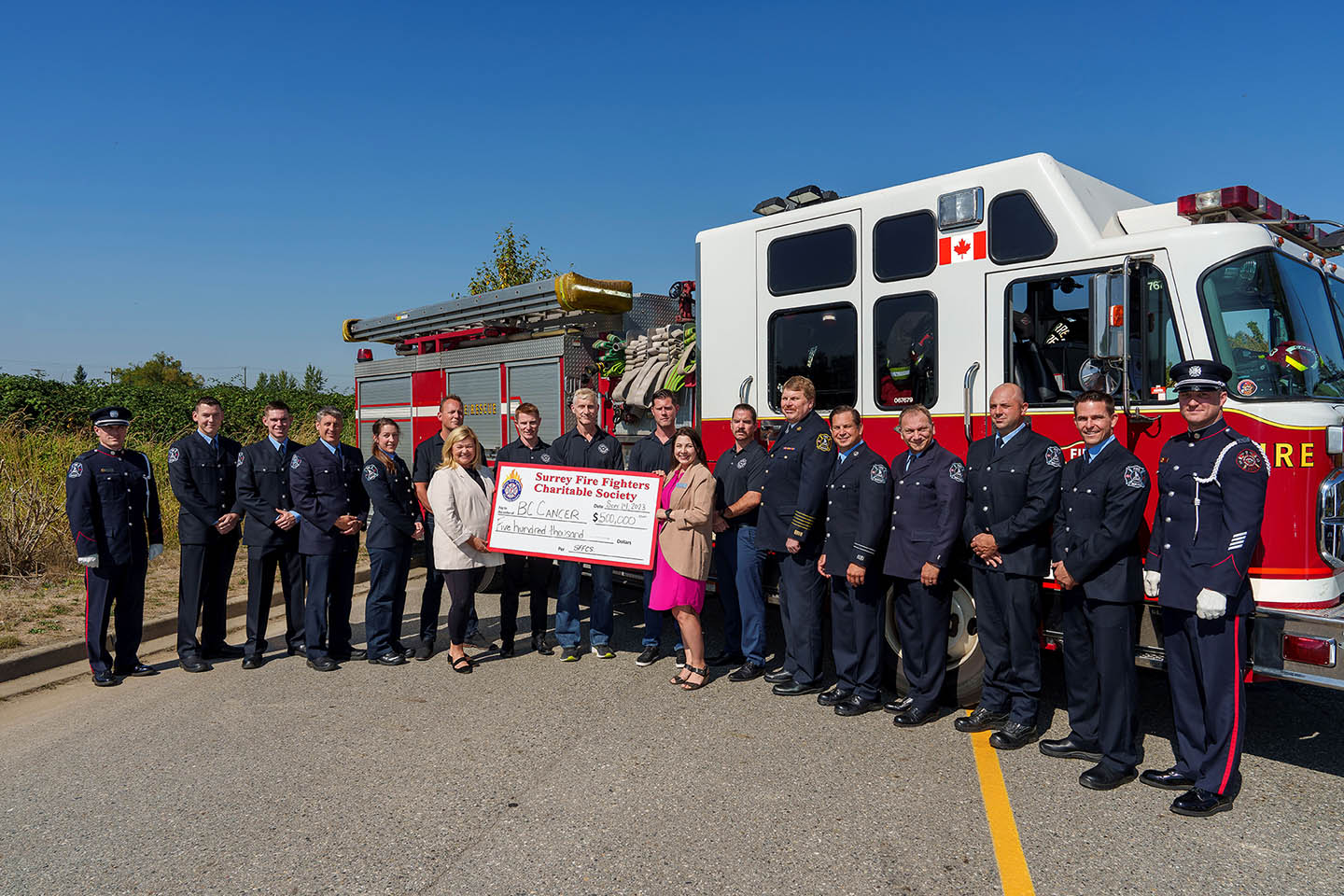 The BC Cancer Foundation is honoured to share that the Surrey Fire Fighters Charitable Society has generously gifted $500,000 to enhance cancer care and research in the Fraser region. The funds will go towards equipping the second BC Cancer centre in Surrey with state-of-the-art technology. The new centre will be one of the largest in the province and fully integrated within the new Surrey hospital.
"As fire fighters, cancer care is an important cause for us to support," says Saverio Lattanzio, President of the Surrey Fire Fighters Charitable Society. "Exposure to carcinogens on the job leads to higher cancer rates and many of our members have been impacted by or lost to the disease over the years. We're also committed to the communities we serve and this centre will ensure Surrey residents have expanded access to leading-edge cancer care close to home."
The new centre will double BC Cancer's regional capacity to deliver chemotherapy and bring critical diagnostic technology to the region, including two PET/CT scanners. The centre will also greatly expand BC Cancer's research capabilities, as they work to improve patient outcomes by creating more precise, tailored treatments.
"We are incredibly grateful for the generosity of the Surrey Fire Fighters," says Kristina Lebed, Executive Director – Fraser Region, BC Cancer Foundation. "The Fraser region is the fastest growing region in the province and this additional BC Cancer centre is essential to meeting the increased demand for cancer care for generations to come."
Nearly 10,000 new cancer cases are diagnosed in the Fraser region each year and this number is expected to increase as the population grows and ages.
The ground breaking of Surrey's second BC Cancer centre took place last week. The BC Cancer Foundation has committed to fundraising $30 million to equip the new centre with the latest life-saving technology and equipment.
Join the Surrey Fire Fighters in supporting the new BC Cancer centre or learn more about this transformational impact it will have on cancer care in the Fraser region.