6 Tips to Power Up Your Fundraising for the Tour De Cure
Raising $2500 or recruiting a team can feel overwhelming, especially if this is your first time out with the Tour de Cure.
The good news is that the Tour de Cure community has had a lot of practice meeting the challenge and they are always ready to share their best tools and tips to get you started on your adventure. The more we help each other here, the further we go in fueling innovation in cancer research and care.
Here are seven tried and tested tips from our community on how to reach that $2500 goal, and achieve something beyond epic.
[Pssst: read to the end for a TdC 2023 surprise!]
1: Personalize your fundraising page
Now that you've registered, people need somewhere to go to help support you and your cause. Personalizing your fundraising page over on the Tour de Cure website is a great way to show everyone who you are and why you're riding.
Upload a photo or two and share your reason for joining this year. These stories give people a way to connect and understand what we're all here to do: help build a world free from cancer. Be creative and start it off on the right foot.
Need some inspiration? Check out TdC fundraising pages here.
2. Start small
$2500 seems like a big number, so the first step is to break it down into small bits. A quick and easy win is to make a self-donation so you can watch that zero disappear. After that, build a list of family, close friends, and people in your immediate circle who are your greatest cheerleaders — the ones you know will throw their support behind you. Reach out to them, and gather your first donations. Doesn't matter how small they are, it's where momentum starts.
3: Activate your network
Have social media accounts? Then you're on your way. If not, start an account and start posting (more on this in the next tip). Post everywhere in the digital and real worlds. If you're on a team, coordinate and get everyone activated. Try your work, your gym, the community centre, your kids' school, your own classmates, etc. Wherever you're connected, get the word out.
4: Go social
Social media is your super power. Tour de Cure is a space for creativity and connection. Share content around your training, your highs and lows, your recruitment efforts. Make a series of posts and videos that track your progress. Document the adventure. Share your own fundraising tips and tricks.
Most importantly, share your gratitude for those who are supporting you.
Check out our Tour de Cure social channels, and tag us along your journey:
Facebook | Instagram | YouTube | Twitter
Learn how the Wheelin' Warriors do it
5: Tell your story twice
We've already mentioned it, but it bears repeating: stories move and inspire us.
As Steve Weir says when sharing his story, "It's up to us to carry forward the voices of those lost – to make sure their legacies aren't forgotten and that we're advancing the research. That's why I created Team For Francis."
Create the "lift" version and the "lobby" version. The lift version is for when you only have 20 seconds with someone. The lobby version is when you have their attention for a few minutes.
Read more about the Team For Francis story
6: Highlight the impact
The Tour de Cure has raised over $116 million since it first began. That money has helped fund province-wide lung-cancer screening, breakthroughs in ovarian and breast cancer through investments in BC Cancer's OVCARE and B-PRECISE teams, and even helped to make cancer care more accessible for everyone via the Patient Relief Fund. This is just a snapshot of this community's impact.
As Mike de Jong, captain of Team Ledcor, says, "Remember that a donation is an investment in all our futures. When people understand that their donation has a real impact on cancer care in B.C., the conversation shifts."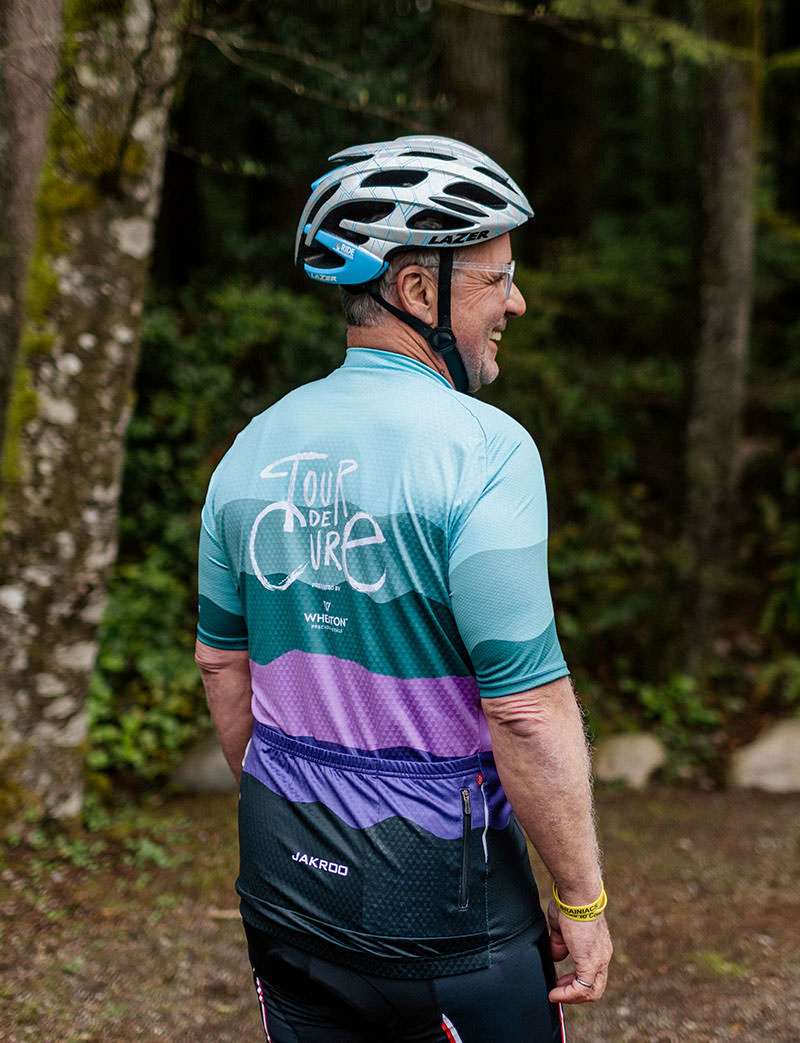 If you're still with us, you've earned the surprise. We proudly introduce to you, the Tour de Cure 2023 Jersey:
 Designed with B.C.'s landscape and inclusivity in mind, these are our colours for 2023. Everyone who hits the $2500 fundraising goal will receive one! They will be shipped over summer in two waves so the earlier you reach $2500, the earlier you can wear it to help push your fundraising further.
We can't wait to see you all in them.
Have questions about fundraising?
Get in touch at tourguides@bccancer.bc.ca.