/
/
/
BC Cancer Foundation President & CEO Sarah Roth: Taking the Lead in Going Beyond Belief
BC Cancer Foundation President & CEO Sarah Roth: Taking the Lead in Going Beyond Belief
In just under eight years, Sarah has led the Foundation to achieve record-breaking revenues, launched Beyond Belief — the most ambitious health campaign in B.C. history to raise $500 million to transform cancer care across the province, funneled donor support into helping establish two new BC Cancer centres, stewarded several extraordinary gifts — including the largest in Canada to support lung cancer research — and garnered unprecedented support from the B.C. government in the form of a $150 million grant.
Far from "all in a day's work," helming the largest philanthropic funder of cancer research and care in the province isn't just a job, she says, it's a calling — and one she plans on answering for the rest of her career.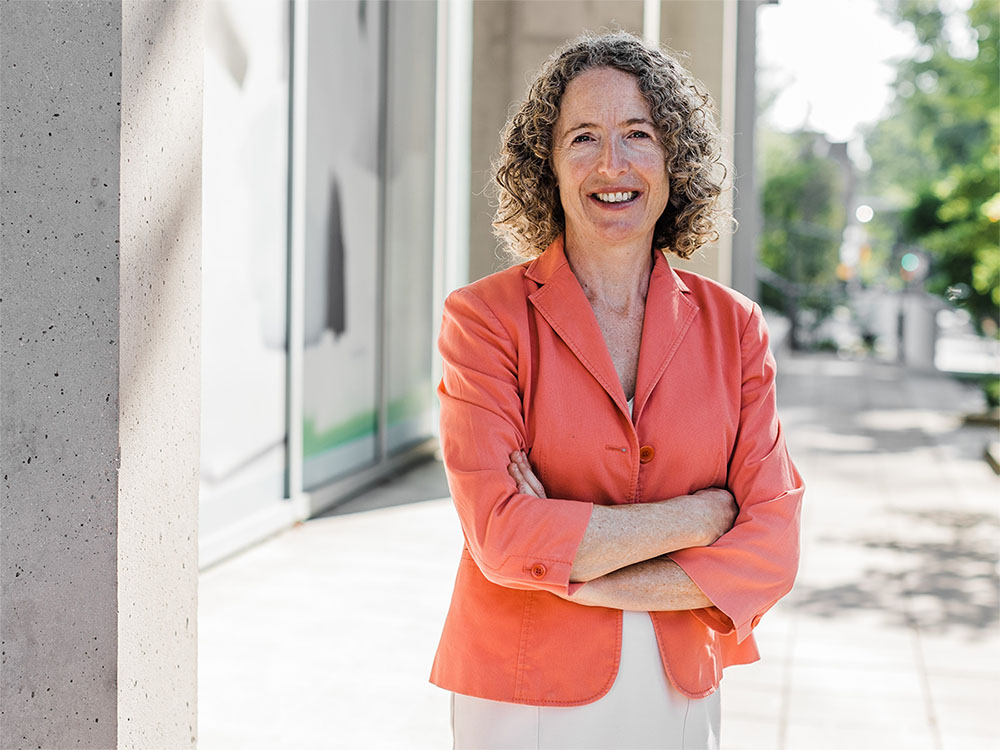 "A few decades ago no one would have believed that some advanced lung cancers could be made manageable by a daily pill or that ovarian cancer risk could be significantly reduced thanks to a made-in-B.C. preventative surgery."
But this is exactly the precipice of promise Sarah finds herself on as the bridge between the world-leading BC Cancer experts and the 90,000 donors who give generously to fuel their life-saving work. With more breakthroughs in the last 20 years than in all the previous centuries combined, there's never been a more exciting time in cancer research, she says.
Since joining the Foundation in 2016, Sarah has consistently grown revenue from under $50 million to more than $76 million in both 2022 and 2023. Milestone donations under her leadership include:
While incredibly proud of this generous support, Sarah also spearheads a Foundation-wide sentiment that no gift is small. "Every donation counts," she says. "Collectively we can all make a real difference." As evidenced by the Foundation's many transformative investments that have brought cancer care closer to home in communities across B.C. such as: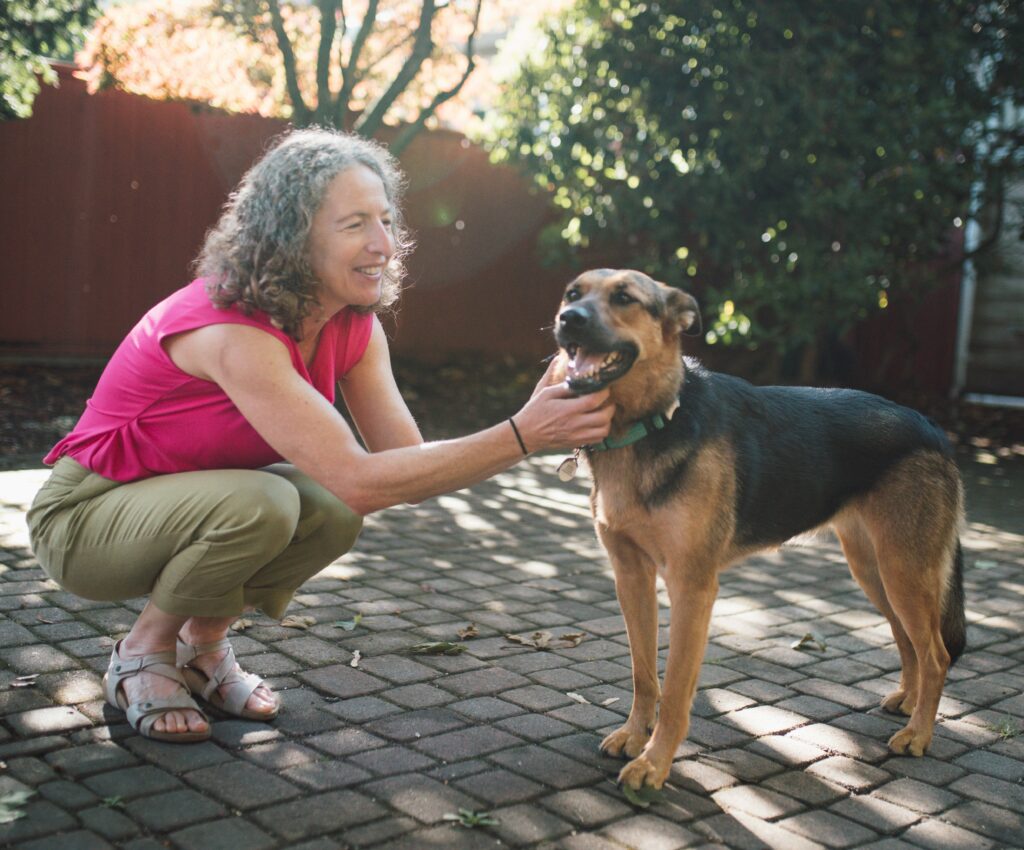 Sarah and Snickers, one of her two rescue dogs.
Having spent more than half her life in fundraising, Sarah thrives in work that has purpose. Prior to the Foundation, she led multi-million dollar fundraising campaigns at Boston Children's Hospital and New York-Presbyterian Hospital. She moved her young family to Vancouver in 2008 when she accepted an assistant dean position at UBC's Faculty of Medicine.
"I don't think it's a coincidence that I've followed a career path that's focused on health care," she says. "My first memory of being in a hospital was visiting my brother, who was in a coma after a car accident. I lost him and another brother to suicide. Both before I was 18.  As a result, the value of life, and the importance of investing in our health, is everything to me."
These early traumas shaped the way Sarah lives her life and the carpe diem way in which she leads. "Life is precious, and short. I trust my gut. If it tells me something is right, I just go for it."
Sometimes that means breaking from the status quo as Sarah did in 2021 when she pushed the Foundation to cut costs and increase revenue by bringing the Foundation's cycling fundraiser in house to create the Tour de Cure presented by Wheaton Precious Metals. Since inception, the event has annually enrolled more than 1,000 riders (Sarah among them) and raised just under $19 million.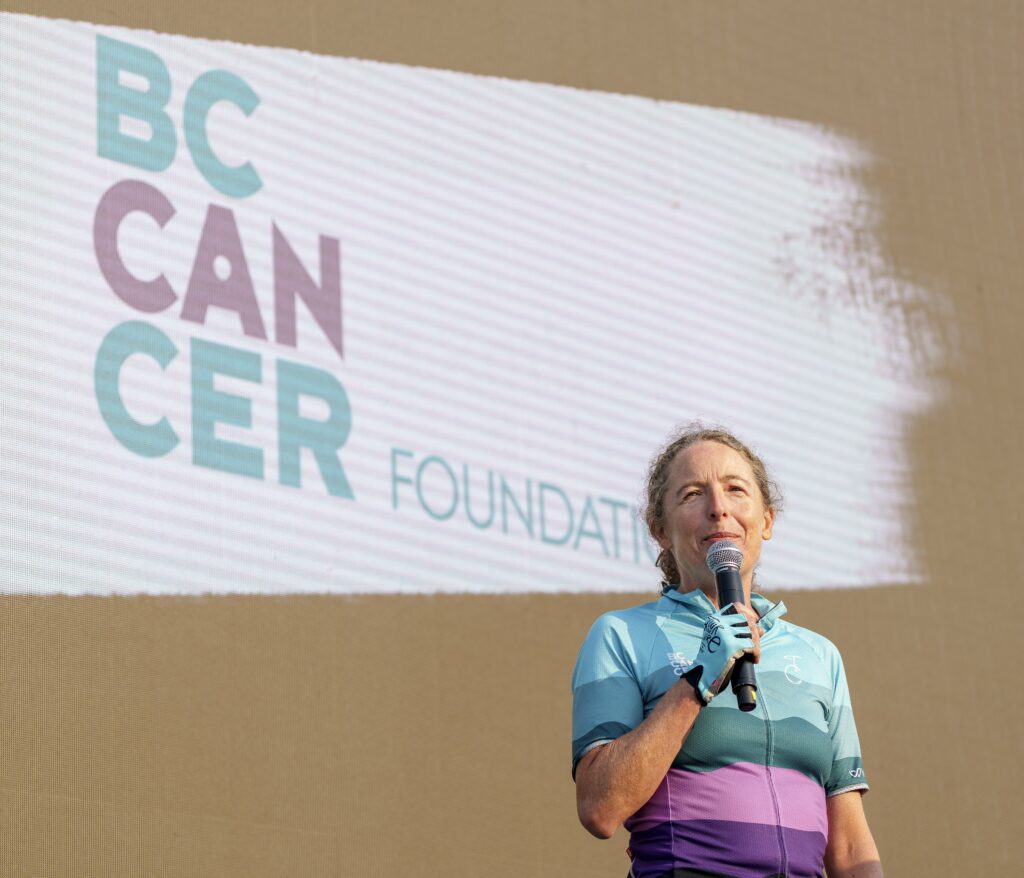 Sarah kicks off the Tour de Cure opening ceremonies.
Despite the victories, working in the cancer community comes with an immeasurable amount of loss — the disease claims the lives of more than 11,000 British Columbians each year. Sarah feels the burden of this personally (all of her grandparents passed away from the disease and she lost a beloved aunt to pancreatic cancer in 2021) and professionally but it only furthers her drive to affect change in the world's number one health crisis.
One in two of us will face cancer in our lifetime. And as our population grows and ages, and people continue to live longer with the disease due to innovative treatment, the demand for cancer services is expected to rise by 60% over the next decade.
"But we don't throw up our hands in defeat. We mobilize. We're a community determined to make a difference."
Beyond Belief isn't just a fundraising campaign, she says. "It's a rallying cry to ensure we have the clinicians, technology and infrastructure in place to meet the increasing demand for everyone in the province. It's about pushing beyond what anyone thought possible. Galvanizing our communities to get involved, fundraise, donate and activate their networks to fuel progress in a disease that affects us all."
"If we work together, we can build a future, if not completely free from cancer, then free from the fear of cancer. It's an honour to help lead our community in getting there."