BC Cancer – Kelowna Celebrates 25 Years
BC Cancer Foundation donors help fuel a quarter of a century of cancer research and care in the Interior.
BC Cancer – Kelowna first opened its doors in April 1998 bringing cancer care closer to home for patients in B.C.'s Interior, who formerly had to travel to the Lower Mainland to receive treatment.
Known as the Sindi Ahluwalia Hawkins Centre, named after the founding donor and late MLA who raised $20 million towards improving cancer care in the Interior, BC Cancer – Kelowna was the fourth cancer centre to be established in the province. It now serves a population of more than 750,000 in a geographic area — including the Boundary, Cariboo, Kootenay, Okanagan, Similkameen and Thompson regions — that is larger than the entire United Kingdom.
Executive Medical Director Dr. Ross Halperin joined BC Cancer – Kelowna almost 20 years ago, and has watched the centre become a leader in B.C., as well as build a national and international reputation.
"Two decades ago we had half the staff, and our main focus was providing treatment for people in the Interior. Today we have a team of 500, and not only do we offer a broad spectrum of cancer care, from diagnostics to chemotherapy, radiation therapy and supportive care, we also have a proven track record of innovation through research and clinical trials designed to improve care across B.C. and beyond."
Of the many 'firsts' BC Cancer – Kelowna boasts, Dr. Halperin is particularly proud of his team's efforts to put patients at the heart of health care, exemplified by both their early adoption of team-based care and as the pioneering centre in B.C. to include a patient advisor as part of their leadership team.
Another first — Dr. Halperin's work in launching the first regional prostate brachytherapy program in the province — owes much its progress to community support, he says.
A targeted treatment, brachytherapy delivers more precise radiation, increasing efficacy while decreasing harmful side effects. It also significantly reduces treatment time — from weeks to just a few days, enabling patients to return home more quickly, and recover supported by family and friends.
"Without donor investment, which allowed us to buy the inaugural equipment, the program would be a decade behind where it is now," says Dr. Halperin. "When brachytherapy became standard of care for patients across B.C., it was on the shoulders of the members of our community that made it happen."
Investing in research-driven care
Donors have also helped bring brachytherapy to other cancers. This includes the 2020 appointment of the first-ever Chair in Brachytherapy, Dr. Juanita Crook. Local philanthropist Dorothy Mills is proud to have supported this life-saving program
"BC Cancer was invaluable when my husband Jim was diagnosed with cancer. They provided excellent care, and helped my daughter, Karina and I immensely during that difficult time. The brachytherapy program is making treatment easier to access for people and their families facing cancer in the Interior — and I wanted to give back by supporting it," she says.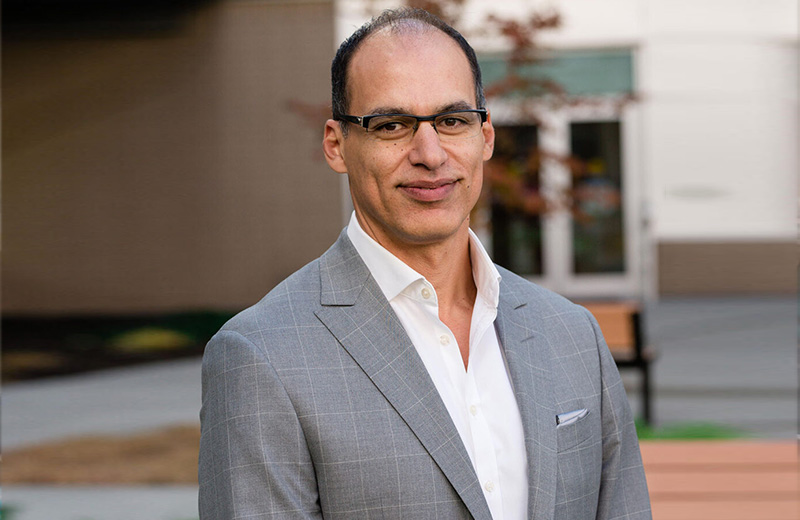 Dr. Islam Mohamed is leading a first-of-its kind clinical trial in lung cancer at the Kelowna centre.
Beyond brachytherapy, BC Cancer – Kelowna has quickly become a hub of research, taking a leading role in many other clinical trials that directly translate to cutting-edge care for patients in the region.
One project putting the Interior on the map is Dr. Islam Mohamed's first-of-its-kind clinical trial in early-stage non-small cell lung cancer. Combining two highly effective therapies — Stereotactic Ablative Radiotherapy (SABR) and immunotherapy — the study is supported by a Foundation-funded fellowship, and will enroll almost 100 patients, with Kelowna as the epicentre, over the next four years.
Donors making a difference
Kelowna's Shannon Gall is a patient, donor and BC Cancer Foundation board member, and she and her husband Clayton (who co-chairs the Foundation's Interior Transformation Council) spearheaded a $1-million fundraising campaign to support the first-ever lung cancer screening program at BC Cancer, now available to high-risk patients at 36 sites across the province.
"I'm here today thanks to BC Cancer," she says. "I want to inspire other patients who are living with cancer to help the next person diagnosed — and that starts by supporting treatment and research right here at home."
Gary Parmar, who also sits on the Interior Transformation Council, and his wife Pam were instrumental in helping establish Kelowna's Personalized Onco-Genomics (POG) program.
"We're amazed at the world-class care provided in the Interior," says Gary. "But as the fastest growing metropolitan area in Canada, Kelowna and its surrounding communities have experienced significant growth. BC Cancer also needs to expand to ensure that we're able to continue to battle this disease."
Building a future free from cancer
By 2027, it's anticipated that one in five new cancer diagnoses in B.C. will come from the Interior. Most of these patients will require Systemic Therapy which includes a large group of drug treatments including chemotherapy, immunotherapy and other targeted agents used to destroy cancer cells.
Once again, the BC Cancer Foundation and its donors are rising to the challenge, embarking on a $6-million campaign to build a new world-class Systemic Therapy Suite, with 25 new chemotherapy chairs and three isolation bays. BC Cancer – Kelowna also has plans in development to improve Operating Room space and create a new supportive care centre.
"We want to ensure we meet Interior patients' cancer care needs now and, as they increase due to a growing and aging population, well into the future," says Dr. Halperin. "Thanks to ongoing donor support, and a region that rallies behind our work, we're well on our way to achieving this."
BC Cancer Foundation President & CEO Sarah Roth agrees:
"A dedicated community has championed BC Cancer – Kelowna from the very start. And donors continue to drive incredible progress —bringing state-of-the-art technology and innovative clinical trials to the Interior — due to a deeply held belief in the ability to effect change in cancer care. With a community this strong behind us, I look forward to seeing what we can accomplish in the next 25 years."
Learn more about how you can support fundraising initiatives at BC Cancer – Kelowna that are improving cancer care for people in the Interior and across B.C.