About 130 children are diagnosed with cancer in B.C. each year. Overall survival rates for childhood cancer have improved significantly in the past few decades and many pediatric cancers are treated successfully. Children under the age of 17 who might have cancer are referred to BC Children's Hospital for initial evaluation and therapy. BC Cancer works in close collaboration with the children's hospital through research and as part of a team-based approach to treatment.
The past two decades have seen significant growth in the number of adult childhood cancer survivors. Recent statistics show 83 per cent of patients in Canada between the ages of one and 19 who are diagnosed with cancer will survive. This can be attributed to the adoption of a multi-faceted approach to treatment, including surgery, chemotherapy and radiation therapy, along with the advancement of genetically based research and the development of new targeted therapeutic agents. Adult survivors, however, often face unique challenges after treatment, and BC Cancer is involved in programs focused specifically on those needs.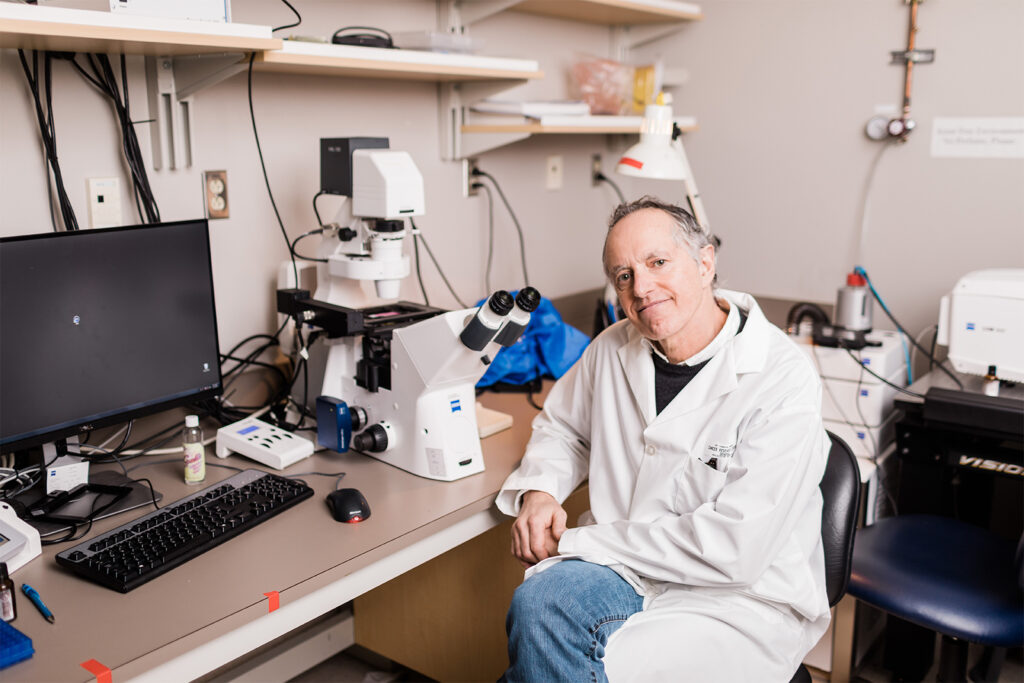 "My team uses donations to make a difference in childhood cancer research."
Dr. Poul Sorensen, Childhood Cancer Research Program
Programs focus on late effects and unique age group
Children who are treated for cancer often experience long-term health risks (called late effects), which are chronic health problems related to cancer treatment and appear years or even decades after diagnosis. Two-thirds of pediatric cancer patients will have at least one chronic or late-occurring health problem from their cancer treatment. Up to one-third of these late effects will be major, serious or life-threatening. Common late effects include cardiovascular disease, secondary cancers, cognitive and developmental disabilities, infertility, musculoskeletal problems, anxiety, and depression.
The Late Effects, Assessment and Follow-Up (LEAF) clinic was created in 2016 as part of a joint Adult Childhood Cancer Survivors Program by BC Cancer and BC Children's Hospital. The program offers information, support and assessment of late effects in adult childhood cancer survivors in order to ensure they receive effective follow-up care. There are approximately 3,000 survivors of childhood cancer in B.C. diagnosed from 1982 to 2010. BC Cancer has launched a new program to recall and assess all 3,000 survivors to ensure they are informed about current and future health risks. The recall program will ensure the wide spectrum of potential late effects will be properly managed, prevented or treated.
Research continues into deadliest forms of childhood cancer
In 2013, BC Cancer was one of seven Canadian and U.S. institutions awarded a highly competitive and prestigious four-year grant from Stand Up 2 Cancer and St. Baldrick's Foundation. The goal of the program was to uncover new immune-based therapeutic solutions for pediatric and adolescent and young adult cancers. BC Cancer distinguished scientists, including Dr. Poul Sorensen, contributed to significant progress including opening 23 clinical trials; demonstrating the potency of immunotherapy against childhood acute lymphoblastic leukemia; uncovering potential therapies for solid tumours; employing cutting-edge technologies to discover and validate immunotherapy targets; and building new antibodies, antibody-drug conjugates and specialized T cells to attack these targets. Dr. Sorensen's team also led a project demonstrating the strong potential of a particular protein as an immunotherapy targeting tool.
In 2015, Dr. Sorensen was also part of a team that discovered a particular malaria protein binds to a specific sugar molecule found in most cancers. The team realized that the sugar molecule could be a target for anti-cancer drugs and the malaria protein could be used as a tool to carry such drugs to tumours. The results were published in the peer-review journal Cancer Cell, and two Vancouver-based pharmaceutical companies are now pursuing the development of the compound for potential future clinical trials in humans.
In 2021, Dr. Sorenson was part of a team that made a discovery in Ewing sarcoma, an aggressive and often fatal childhood cancer, which uncovered the potential to prevent cancer cells from spreading beyond their primary tumour site. The results were published in Cancer Discovery, and provides new insight into what triggers the process that allows cancer cells to survive while traveling throughout the body in the bloodstream.
Along with important work focused on adolescents and young adults with cancer, research continues into advancing care and treatment of all pediatric cancers.
Acute myeloid leukemia is one of the most serious forms of childhood leukemia. It is difficult to treat and has a high rate of recurrence. BC Cancer's Dr. Marco Marra, director of the Michael Smith Genome Sciences Centre, is currently part of a collaboration of international researchers involved in Target pediatric AML (TpAML), an important and high-potential research project by the Children's Oncology Group (the largest pediatric clinical trial organization in the world). The project is designed to advance treatments and survival for kids with this disease. As part of the project, samples from pediatric patients are being sequenced and analyzed at BC Cancer with an aim to find potential new targeted therapies.
Donor support aids continued advancements in research, as well as the development and maintenance of programs tailored specifically to younger cancer patients.