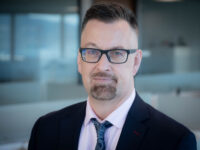 Dr. David Byres
Director

David Byres is the President and CEO of the Provincial Health Services Authority (PHSA). PHSA provides a provincial network of specialized hospitals and services across BC such as BC Children's and Women's Hospital, the BC Cancer Agency, the BC Centre for Disease Control, BC Mental Health and Substance Use Services and BC Emergency Health Services. David has over 25 years of experience in the health sector, most recently as the Associate Deputy Minister, Clinical Leadership for the B.C. Ministry of Health where he held responsibility for a number of clinical areas including the Office of Indigenous Health.

Previously, David has served as the Executive Vice President for Providence Health Care and as the Chief Nurse Executive for the Ministry of Health. His health career began in community mental health and as a registered nurse in medicine, mental health, community, and emergency settings.

David is actively involved in research and is currently a co-principal investigator examining a health equity intervention framework to promote the provision of equity oriented care for Indigenous people in B.C.'s emergency departments.

David holds a Doctorate in Nursing Practice, a Bachelor of Arts degree in Psychology and a Bachelor and Masters of Science degree in Nursing. He is an Adjunct Professor with the School of Nursing at UBC and Adjunct Assistant Professor with the School of Nursing at the University of Victoria. He is a Certified Health Executive with the Canadian College of Health Leaders, recipient of the Deans Medal of Distinction from the UBC Faculty of Applied Science and was recently inducted as a Fellow of the Canadian Academy of Nursing.
Beyond Belief Campaign Cabinet