/
/
/
Elissa Ming Morrissette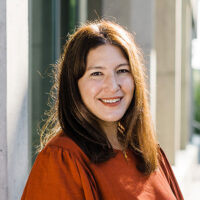 Elissa Ming Morrissette
Vice President, Development

As Vice President, Development at BC Cancer Foundation, Elissa brings over 14 years of experience and leadership within the charitable healthcare field in B.C. and internationally.

Elissa oversees the Foundation's dynamic Leadership & Community Giving team which encompasses mid-level giving, direct response, tributes, monthly giving and third-party events. Elissa also leads the Gift & Estate Planning provincial program, whose team assists donors and their advisors in planning to leave a meaningful legacy to BC Cancer Foundation and ensures their wishes are fulfilled. Development Operations also sits within Elissa's portfolio, and underpins the Foundation's development activities and processes.

Elissa is passionate about introducing new donors to BC Cancer Foundation, deepening connections with existing supporters, and helping families create meaningful legacies.

Prior to joining BC Cancer Foundation, Elissa was based in London, England, leading an expert team at Cancer Research UK, raising funds and awareness for cancer research and programs. She holds a Bachelor of Commerce degree from the John Molson School of Business in Montreal.

Elissa was recognized for her leadership and proven track record by the Association for Healthcare Philanthropy (AHP) 40 Under 40 Program.

She enjoys cycling, and participates in the BC Cancer Foundation's annual Tour de Cure cycling fundraiser, reading and enjoying B.C.s beautiful trails with her husband and their rescue dog Zorro.
Beyond Belief Campaign Cabinet