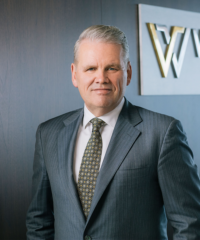 Randy Smallwood
Mr. Randy Smallwood is the President, CEO and a director of Wheaton Precious Metals, one of the largest precious metals streaming companies in the world. Mr. Smallwood holds a geological engineering degree from the University of British Columbia and a mine engineering diploma from the British Columbia Institute of Technology.
Mr. Smallwood originally started as an exploration geologist with Wheaton River Minerals Ltd., and was an instrumental part of the team that built Wheaton River / Goldcorp into one of the largest and most profitable gold companies in the world.
Mr. Smallwood formerly served on a number of junior resource development companies, and is currently the Chair of both Special Olympics BC and MineralsEd BC.  He is also a director and co-founder of Mining4Life and previously served on the board of the BC Cancer Foundation.
In 2015, Mr. Smallwood received the British Columbia Institute of Technology Distinguished Alumni Award, and in 2019, he received Business in Vancouver's BC CEO of the Year Award in the enterprise category. On September 3, 2020, Mr. Smallwood was appointed as the Chair of the World Gold Council.
Beyond Belief Campaign Cabinet