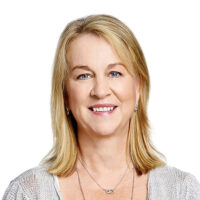 Launi Skinner
Director

Launi Skinner is CEO of First West Credit Union, one of Canada's leading credit unions with nearly $17.4 billion in total assets and assets under administration, 250,000 members, and 1,250 employees. Launi leads First West's vision and strategic direction, ensuring the organization's brand network—Envision Financial, Valley First, Enderby & District Financial and Island Savings—remains committed to simplifying lives and helping members and communities thrive.

Launi has more than 25 years of experience managing large and complex businesses in both the U.S. and Canada. Before joining First West, Launi spent 15 years with Starbucks where her last role as president gave her oversight of 11,300 stores, management of revenues in excess of $7 billion and leadership of a geographically dispersed management team overseeing 130,000 employees.

Launi has been named one of "Four Women to Watch" in Fortune Magazine's 50 Most Powerful Women feature, awarded an honorary doctorate by the British Columbia Institute of Technology and named as one of Canada's Most Powerful Women four times culminating in a Woman's Executive Network hall of fame entry. Additionally, she received the 2011 Stevie Award for Best Canadian Executive and was named one of Business in Vancouver's Most Influential Women in Business for 2012.

Launi is currently a board member for the Business Council of British Columbia and Rocky Mountaineer, and previously served as chair of the board of directors for Science World.
Beyond Belief Campaign Cabinet