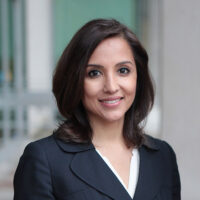 Fatima Hassam
Senior Vice President & Chief Development Officer

As Senior Vice President & Chief Development Officer, Fatima provides strategic leadership and vision for the Foundation's Development portfolio and province-wide fundraising initiatives, inclusive of the Major Gifts Program and Provincial Campaigns.

A genuine passion for inspiring and stewarding donors who wish to realize their philanthropic intentions, Fatima excels in leading high performing fundraising teams, building meaningful relationships and developing creative solutions which support the life saving work at BC Cancer.

Fatima brings more than 20 years of extensive fundraising experience within the healthcare sector. Prior to joining the Foundation, Fatima successfully led fundraising and major gift initiatives at the University of British Columbia Faculty of Medicine. As part of the UBC's $1.5 billion start an evolution campaign, Fatima contributed significantly in leading major capital fundraising campaigns in brain health and sports medicine.

In her personal time, Fatima enjoys spending time reading, traveling and staying active with her husband and her two teenage sons.
Beyond Belief Campaign Cabinet