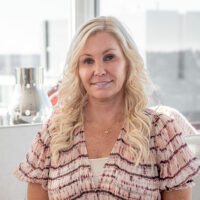 Laurie Rix
Laurie Rix is President of the Southlands Group of Companies and the Rix Family Foundation, a private, Vancouver-based family foundation that was formed in 1977 and focuses on supporting health and education as well as charitable organizations that make a difference to the lives of women, children and animals.
The Foundation has a long history with BC Cancer and its world-renowned Genome Sciences Centre.  Her father, Dr. Donald Rix, was the first patient to receive what was at the time, ground-breaking genome sequencing from BC Cancer.  Following the deaths of her father and her husband, Neil Macrae from cancer, the Foundation has been committed to supporting the integration of genomics into cancer care.  Strengthening and fostering the new frontiers of precision medicine, will hopefully change the outcome for young and high-risk breast cancer patients.  Laurie has also established the Neil Macrae Research Fund to stimulate research and raise awareness into male breast cancer.
Born and raised in Vancouver, Laurie's experience working in the City of Vancouver Mayor's Office under Philip Owen, gave her invaluable knowledge and connections with all the non-profit community organizations in the city.  Coupled with her experience running small businesses, she has a unique insight into the community as a whole.
Beyond Belief Campaign Cabinet