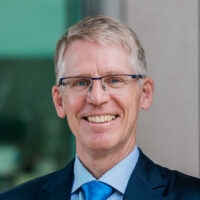 Michael Borden
Chair, Investment Committee

Michael retired in April 2020.  He served as Vice President and Portfolio Manager at Phillips, Hager & North Investment Management Ltd (PH&N) having joined PH&N's Fixed Income team in 1994. At PH&N Michael oversaw a $7.0B mortgage investment program. Michael began his career in Toronto as a financial analyst within the investment department of Canada Life. Subsequently, he spent nine years in the pension investment department of Shell Canada; the last five of which were as the Senior Fixed Income Specialist. He has been a Director of CMLS Financial Ltd since 2004. Michael is a Chartered Financial Analyst and obtained a B.Comm degree with Honours from the Queens University.

Michael is an ardent supporter of the Foundation having participated in the Tour de Cure for the past decade and having attended numerous special events in support of the work being done at BC Cancer. In 2008 Michael's mother passed away from Chronic Lymphocytic Leukemia and when the Ride for 2009 was announced it was his three daughters that convinced him to do the Ride with them. Michael has ridden each year since with at least one, if not all, of his daughters riding as well.
Beyond Belief Campaign Cabinet