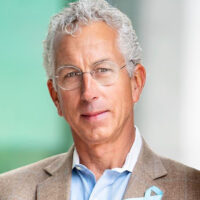 Alex Blodgett
Director

Alex Blodgett operates BK Capital, a Vancouver-based investment banking boutique that sources growth capital and advises companies on mergers and acquisitions.  His capital markets exposure has been augmented by experience operating a number of both public and private manufacturing, technology and service companies.

Alex has been a long term supporter of BC Cancer. In the midst of that support tenure, he, his wife and his five sons became intimately familiar with BC Cancer when he was diagnosed with Stage IV non-hodgkin's lymphoma.  With a very poor prognosis, the Blodgett's developed a very deep and personal appreciation for the thoroughness, thoughtfulness and professionalism of everyone at BC Cancer, and understand the value, first-hand, how research saves lives.

Alex has participated in the BC Cancer Foundation's flagship cycling fundraiser (now known as the Tour de Cure) eight times since 2012. In the summer of 2021, Alex raised an incredible $1 million for pediatric cancer research in a self-supported, multi-sport expedition consisting of hiking, mountain biking, mountain climbing and ocean rowing along B.C.'s coast – the Circle of Hope.
Beyond Belief Campaign Cabinet